2020 | Top 5 Indoor Cycling Applications: IOS/Android
2020 has been a year of double punctures, so that's why we are Armor-X have decided to create a comprehensive list of the best indoor cycling Apps to keep you entertained during COVID-19. These are great ways to relieve stress and boredom without having the wind flow through your hair. To utilise these Apps, you will need a decent bicycle trainer or rollers and an ANT+ or BLE power meter/speed and cadence sensor. But if you're reading this, that's probably a no brainer.
1.  Trainer road: Available on iPhone, iPad, and Android.
(memberships are $19.95/month or $189/year)
https://apps.apple.com/us/app/trainerroad/id934224107
Supremely focused interval workouts of severe cyclists. This App takes a very streamlined approach to training with no AI environment provided; it can be distinguished by its blues bar, which tracks power output over time. Every indoor work out a rider completes using the Trainer Road app is based on power and tailored to their personal fitness level.  
Along with a vast library of structured workouts, cyclists get access to training plans that tell them precisely what to do to achieve their unique fitness and race goals. Users can then access their data and stats on the Career page to track their progress. Another feature, to compensate for lack of rider simulation is on-screen text providing live performance data that guides you while you train. This text gives you anything from drills to guidance on how to augment your posture. All plans are custom created by Level I USAC certified coach Chad Timmerman.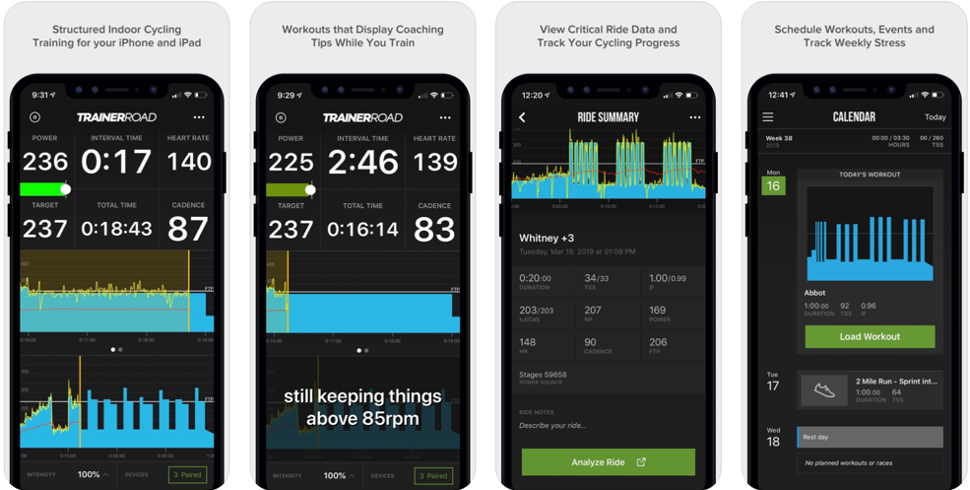 2. Zwift: Available on iPhone, iPad, Android, Apple Watch and Apple TV supported(Free for the first 25km then 14.99$ monthly to go unlimited)
https://apps.apple.com/us/app/zwift-ride-and-run/id1134655040
Zwift is an indoor training cycling app that has revolutionised the world of indoor cycling. It is an online virtual platform, which allows you to ride through real cycling routes that have been digitalised to make you feel like you are actually there. This App has hugely impressive social interaction and stunning graphical elements. Ride, train, compete, and make new friends in a colourful virtual world that doesn't have Covid-19, all from the comfort of your own home. Zwift is excellent for those who struggle to self-motivate and relish the competitive nature of sports. This App has a great chat feature and fully customisable avatars to enhance the social experience. This, coupled with over 1,000 structured workouts and training plans, makes it the complete indoor cycling app. Like most other apps, it allows you to track your results and gives you all the data you need to analyse your workouts and take your performance to the next level.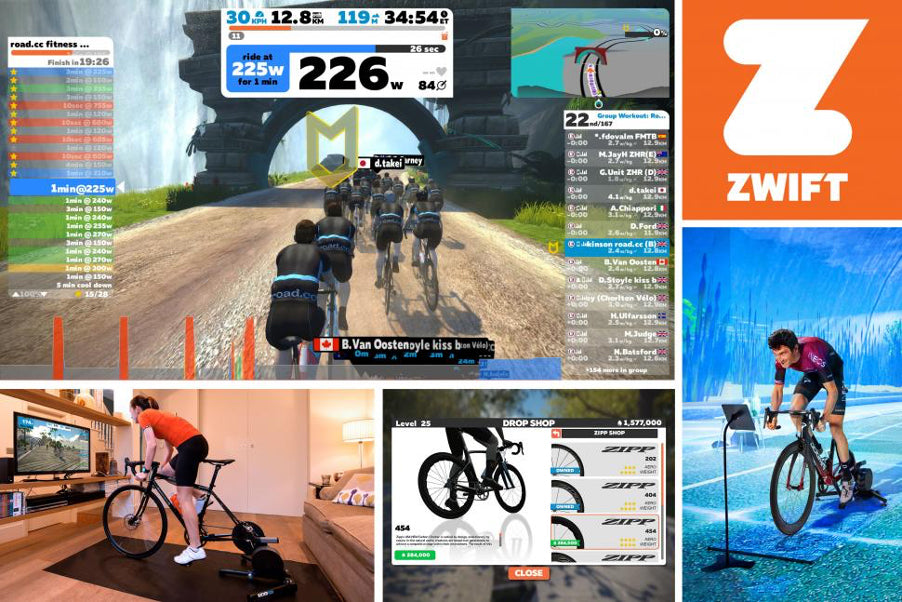 A wide selection of devices are also supported, along with excellent connectivity to Apple health. This allows the user to save your activity data from rides as well as letting your Apple Watch provide you with real-time heart rate data. Races and group rides often happen in the same place, 2019 also saw the advent of the first professional e-racing league using Zwift's platform. The future is getting zwifty.
3.  Peloton: Available on iPhone, iPad, Android, Apple Watch and Apple TV supported(Digital Membership 12.99$ a month)
https://apps.apple.com/us/app/peloton-at-home-fitness/id792750948
Peloton is an App and bike machine system designed to replicate the increasingly popular 'spin class' experience at home; it has managed to keep this energy with a cult-like following. However, this App usually comes in conjunction with an expensive Pelton cycling machine with a built-in screen and a vast array of features and accessories. While this machine is incredibly highly rated it will set you back a whopping 2,245$. This App allows you to transform your fitness routine with thousands of on-demand classes taught by qualified experts. The software displays your resistance, cadence, and wattage to keep you in sync with the instructor as well as keeps track of your mileage and ride achievements so you can track your progress over time. This App is not just for cycling and includes running, Yoga, and HIT workouts. This large variety of indoor and outdoor activities allow you to pursue your fitness goals with a mobile professional-grade studio suite.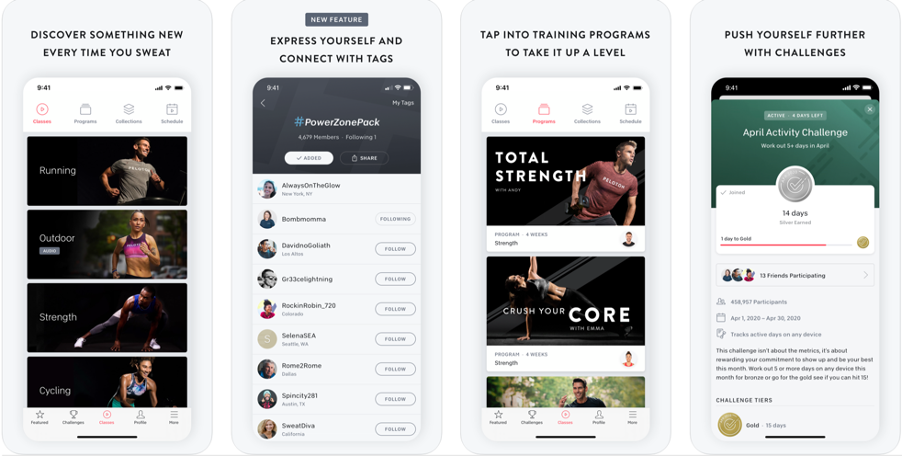 This App also comes with plenty of challenges to keep you motivated to hit your fitness goals. It allows you to check up on your friends and keep the competition going. Peloton has full Apple health integration and also supports Bluetooth enabled heart rate monitors and cadence sensors to view your live metrics. 
4. Rouvy: Available on iPhone, iPad, Android, Apple Watch and Apple TV supported(Digital Membership 7.99$ a month or 74.99 a year)
https://apps.apple.com/us/app/rouvy-workouts/id699418485
Rouvy is a unique indoor cycling App that combines augmented reality courses with a vast array of real-life routes to ride and race on. Unlike its competitors, which simulate virtual worlds and roads, Rouvy uses a winning combination of video recordings and elevation data. As of 2020, there are over 2 million km worth of routes to explore, and it keeps expanding! There is also the option of uploading custom GPS routes using a GPX file. In terms of the social side of the App, you can race against your mates or computer-generated 3d animated riders. Rouvy also hosts races for amateurs and professionals alike, and even has the option to win cash prizes for completing in-game challenges! One important thing to note: if you want to participate in official Rouvy races, you will need a smart trainer. If your more on the workout and training vibe, Rouvy has you covered with an extensive library of over 4000 structured workouts. If none of those are up your alley worry not, Rouvy allows the user to build personal interval-based workouts, ensuring complete flexibility. 

Another exciting feature is that Rouvy can control the resistance of your indoor bike to match the route log or intensity of an interval session. Making those alpine climbs feel very authentic in the legs. Rouvy can also pair to a multitude of sensors like heart rate monitors.
5.  RGT Cycling: Available on iPhone, iPad, Android, Apple Watch and Apple TV supported) (FREE During COVID-19)
This list would not be complete without highlighting the unbelievable offer on the table from Royal Grand Tours cycling. RGT cycling is entirely free during COVID!! No more excuses not to get on your cycle machine and clock up some mileage. This is a company who has always priced their Apps very reasonably and has an ethos of accessibility for indoor cycling. The graphics on this App are top-notch due to being created by hardcore gamers. Users from around the globe can ride, race and train together in a virtual world. This world can be well-known cycling roads, a Mario-cart-Esque magic road, or one of your own creation which can be uploaded using a GPX file.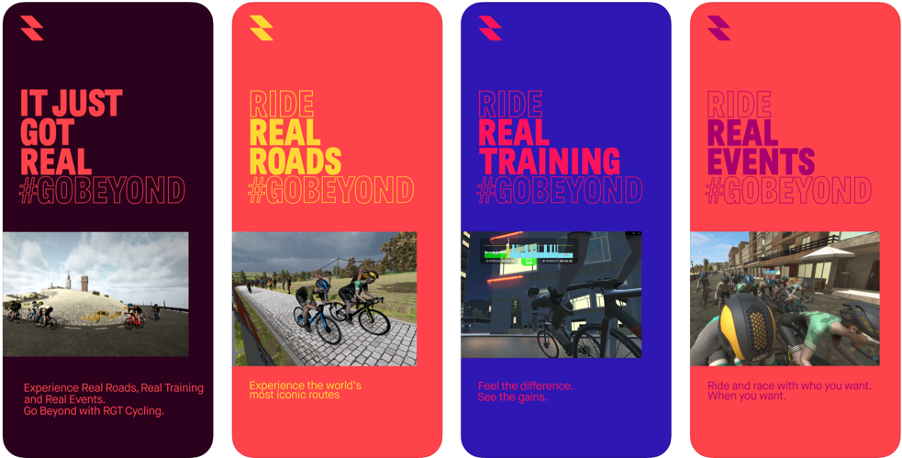 Like most other Apps on the market, RGT has a wide array of training programs to get you in to shape before racing against your pals. These include Endurance, V02 mac and threshold if that's not enough to get you to a podium finish then why not try virtual coaching, which comes with structured training plans developed by TrainingPeaks.
---