Cycling Apps have revolutionised the cycling world and brought it to a new generation of tech savvy, accessory obsessed bike enthusiasts. These applications allow you to record, track and route plan with your devices. It has also added a social element to cycling allowing you to share, comment and compare routes and rides further adding to the creation of an online cycling community. There is something on the market for everyone weather you are a mountain biking maestro, road racer, commuter or weekend warrior we have you covered.
Strava: Available on iPhone, Android and Apple Watch. 
(free with in App purchases)
Strava is the premier fitness app on the market and accepts data from your phone and nearly every type of fitness device. It was created by Athletes to act as an online community and social network for all things fitness. This free App allows you keep tack of ride stats as you travel, including speed, time and distance all the while tracking where you've been using GPS. At the end of your ride, you can view further stats such as calories burned and elevation ridden by segments of by your whole ride. Once you have synced your Facebook the social networking side of Strava really becomes clear. You can share your rides with friends on a feed, comment on their rides and like their posts by giving them 'Kudos'. If you aren't in to the social media scene this is also fine and you have the option of hiding your rides from public leader boards until your back in tip top shape. Another cracking feature is Strava Clubs, where you can meet-up with other members, join activities and connect with other athletes in your local area. This is a great way stay on top of your game and earn new achievements.
The standard Strava is free, with Summit packs are £2.49 a month, or get a bundle deal for £6.99. By upfront annually for £18.99 or £49.99 and this reduces the price to the equivalent of £1.58 or £4.00 a month, saving you 16%. There is currently a three month free Strava Summit trail should you wish to try it out first.
There is a price plan for you to fit your specific ride requirements. The basic app described so far is free!! However; for a more in-depth look at your riding there's Strava Summit with three 'pack' options. The Training Pack enables you to set custom goals and training plans as well as giving you live performance data, race and pace analysis. The Safety Pack allows you to share your live location with loved ones for their peace of mind when you're out on the roads or trails. Personal heatmaps are also available to better visualise the ground covered around the world. The Analysis Pack will connect your data to any devices and enable you to take an analytical and statistical view of your riding data. Including heart rate and power analysis (with supporting hardware provided by Armor-X) as well as telling you how fresh you are to train.
Cycle Meter GPS: Available on iPhone, Android and Apple Watch. 
(free with in App purchases)
This is an app designed with the proper cyclist in mind, the cyclist who wants information on the go to be able to help augment their performance. This comprehensive fitness app utilizes the GPS functions of your device to create a range of stats to help you log and improve your cycling performance. These include maps, graphs, splits, intervals, zones, training logs and announcements, making it the most powerful cycle computer on the market. To get going simply turn on and pedal and Cycle meter will map out the best route for you. The major point of difference with this APP and others on the market is that it includes built-in announcements, so that you don't have to take your eyes off the road to check your progress. You can set up voice prompts to give you stats using you earphone remote microphone. All of your recorded data can always be used in conjunction with other applications like Strava and uploaded to social sites should you feel the need to show off your speed. This virtual training partner is thankfully free with the in app purchase elite upgrade costing 9.99$/£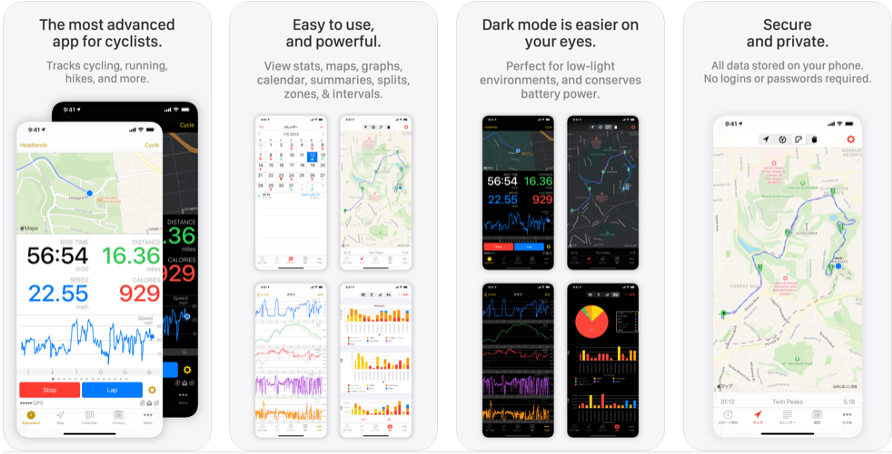 Map My Ride (By: Under Armour) : Available on iPhone, Android and Apple Watch. 
(free with in App purchases)
Map My Ride was one of the original ride-logging services, and despite fierce competition for in the sports app space from the likes of Strava, it still has a lot to offer it users. If you live in a city and have trouble finding traffic-free routes ? Or finally found that traffic free route and want to save it for later? Then look no further. With MapMyRide you can easily discover new routes wherever you are, and load your saved favourites for your next adventure. The app records a host of data from your ride, including duration, distance, speed, elevation, pace and even calories burned of your detailed route. All of this can be uploaded to the Map My Ride site for detailed analysis and sharing with other users Like Strava, Map My Ride also includes timed sections , called Courses as oppose to segments where you can compete to try and set the fastest time. Another fun feature is you can join challenges and win prizes within the MapMyRide social community. The best part of MapMyRide is the ability to map out your own route and share it with your community in real time. This app is also compatible with most smartphone devices and a range of other fitness devices like the Garmin watch™ or Fitbit™.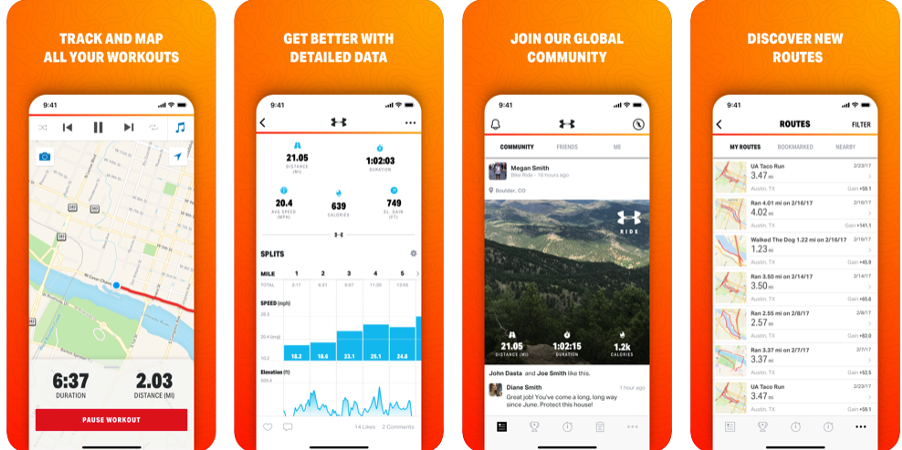 The great news is that this APP is complete free, however if you want to take your rides further you can upgrade to MVP to access premium features. These include a personal training plan which adapts dynamically to your fitness level as you improve. NO-ADS to focus firmly on fitness. It also includes the ability to create custom splits based on the distance you want to track. All of this will set you back 29.99$ for a year or 5.99 on a rolling monthly basis.
Komoot : Available on Desktop, iPhone, Android and Apple Watch. 
(free with in App purchases)
Komoot is an App that primarily used for off road cyclists. From ready built to trails to reveal all of nature's best kept back alleys, to superior route planning and GPS Navigation tech that allows you to decide where to go and what to discover. Komoot has over 10 million users worldwide and counting. This user fed system allows riders to log and mark rides which help the rider community plan future rides of their own. This app provides crucial information before venturing out to the wilderness. Namely the app will show you which routes are suitable for what type of bikes, road, hard tail, mountain and downhill. As well as the recommended level of fitness required to complete the tracks. To plan a route simply select your riding style, plot in your desired star and end points and let Komoot handle it from there. This App allows you to explore more of the great outdoors on your terms!
A great feature of this App is the turn by turn voice navigation. The precise, inch accurate verbal navigator allows you to keep full visual focus on the track in front of you. Something that is extra crucial when your whipping though small trails in the woods. Additional features include café/snack stop recommendations in the 'Highlights' section and additional images and information, if other users want to upload images. Komoot is also compatible with other fitness apps and devices like Garmin hardware and the apple fitness app.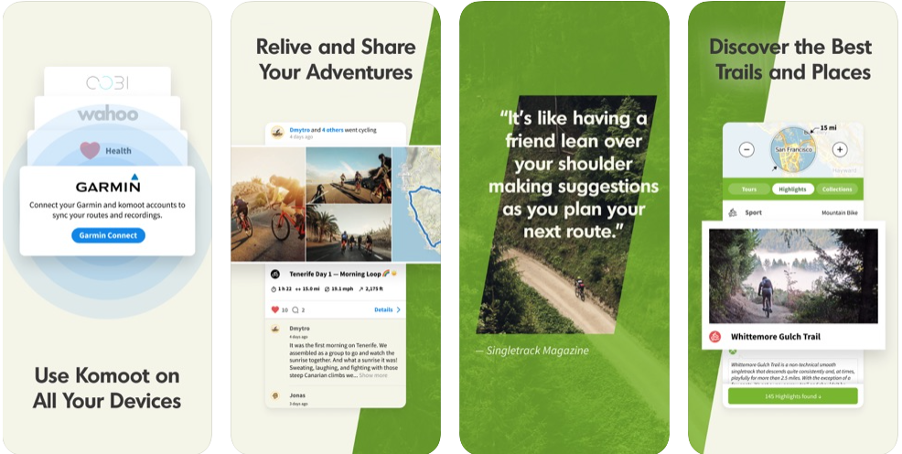 The good news is that this App is free. With premium upgrade options available these include offline maps, free map updates and tour export for your GPS device. Payment is usually done via region with your first home region free and a single region after that at £3.99 and the whole world at £19.99.
Training Peaks : Available on Desktop , iPhone, Android and Apple Watch. 
(free with scaled up In-App purchases)
Training Peaks is one of, if not the most, popular platforms used for tracking athlete performance and the most professional and expensive application on this list. This App primarily allows you to pursue your cycling related fitness goals with personalized training plans, accredited coaches and powerful tools to track your progress. Training peaks is a matchmaking platforms for athletes looking to improve and coaches looking to share their expertise. It also has a self-coach option which allows you to directly buy training plans to decide if you think you need an actual coach. Training peaks main point of difference is that it breaks down the complex raw data you would be get with other App's to deliver valuable personalised feedback after every workout. This allows the user to see exactly how your fitness is improving over time, and gain confidence that when race day comes, you'll be performing at your personal optimum level. 
Training Peaks is compatible with over 100 fitness apps and devices; including Wahoo, Garmin, Fitbit and many more . The basic platform is free to use for athletes, but if you want a little more in-depth analysis or schedule activities for future, you do have to upgrade to the Premium for version for $9.92 (£7.69) a month, coaches have their own pricing index which starts at $19 (£14.72) a month. Working with a Training Peaks coach will set you back a little more, with monthly packages starting at $119 (£92.17) a month with a $99 (£76.68) one off start-up fee. This is expensive yet you get what you pay for and no other cycling App out there compares for professional grade coaching and data.
Armor-X Cycling Mounts:
If you plan on using any of the above software any time soon, you will need some sturdy hardware to go with it to safely and securely attach your phone to your bike. Look no further Armor-X has got you covered with the widest range of rugged and ip68 fully waterproof casing systems on the market. All these cases are fully compatible with our X-Mount ecosystem so simply slide-lock and go to get the most out of the mount of your choice. All of our mounting systems can also be made to be fully compatible with action cameras like Go-Pro. We would recommend our solid, quick release handlebar mount for road cyclists and off road cyclists alike. However for serious Down Hill riders we recommend the chest mount for added security and stability whilst filming your Rad-Runs.
 Written by: Luc Wilson
---