MOUNTABLE WATER / SHOCK PROOF CASE FOR XIAOMI MI 6 / MI 6X / MI A2
INTERCHANGEABLE X-MOUNT SYSTEM MAKE YOUR LIFE MORE ACTIVE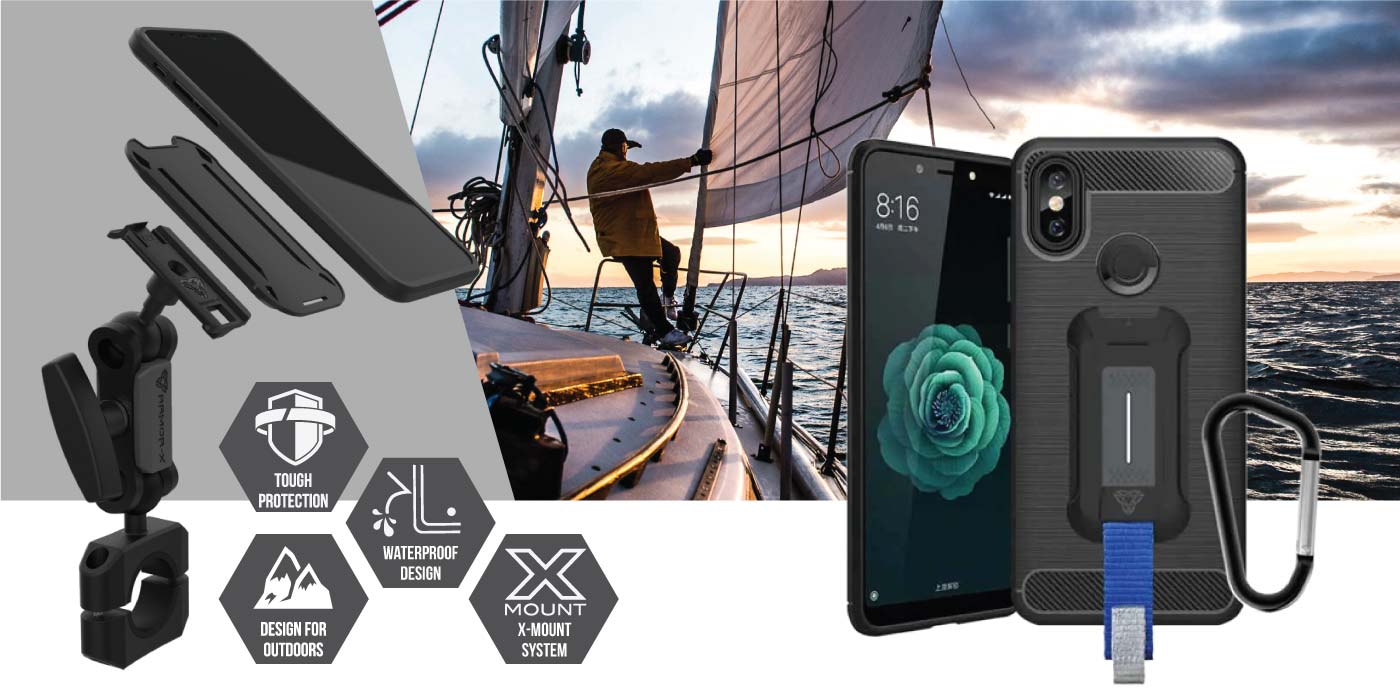 Our vision has always been to create a unique design that allows you to make your urban life more active. Think ahead of time, ARMOR-X has created a mountable protective case for Xiaomi Mi 6 / Mi 6X / Mi A2 smartphones bundled with a mounting eco-system - a built-in interchangeable mounting solution to suit your modern urban lifestyle. ARMOR-X helps you access your Strava, and other fitness or Navigation apps without any hassle. We keep your device safe and securely mounted when you are wandering the city or embarking upon any kind of sporting activity.

ARMOR-X offers a wide range of protective cases and mounts for your Xiaomi Mi 6 / Mi 6X / Mi A2 smartphones. It allows you to attach your device securely to any motorcycle, truck, fishing boat or any other vehicle. You can have a full control of the day-to-day operations of a warehouse or any outdoor adventures. Simply " Slide, Lock & Go! "

ONE SYSTEM.
ENDLESS ADVENTURE.
DESIGN FOR URBAN ACTIVE LIFESTYLE
WHY ARMOR-X?
ARMOR-X is the most secure phone & tablet mounting eco-system that make your urban lifestyle more active. Integrating the interchangeable mounting interface into a sleek and tough everyday case, it empower your smart device in extremes and custom your own design.
ARMOR-X offers a wide range of heavy duty interchangeable mounting solutions for all types of rails, vehicles and mobile devices. Just simply "Slide, Lock & Go!" 
EMPOWER YOUR DEVICE IN ANY EXTREMES
Excellent Protection
Protect your device from the tough working environment or adventures. We have different level of protective case design for your Smartphone with X-MOUNT adaptor.
Future-Proof
Our modular X-MOUNT system creates a constant that you can count on in the future – no matter what the next device might be and we get it covered.
Expandable
Active-KEY - An innovative ecosystem providing a variety of functions by transforming your smartphone into a gadget hub.
Design for
OUTDOORS & EXTREME WORKPLACES
Our modular X-MOUNT system creates a constant that you can count on in the future – no matter what the next device might be and we get it covered. Simply " Slide, Lock & Go! "
SHOP NOW